Pathway to International Association of Coaching® Masteries Practitioner
LEADING SELF AND INSPIRING OTHERS
Coaching inspires a sense of ownership and clarifies one's purpose. Coaching process results in emotions that provide intrinsic motivation to unleash potential by discovering strength and wisdom within.
This course is for anyone who wants to equip themselves with Coaching skills and to pursue the International Association of Coaching's Professional Certifications. Conducted by Industry Practitioners from Teamcoach International, an IAC Coaching Masteries® Authourized Licensee. This course will provide a pathway to achieve Coaching Excellence.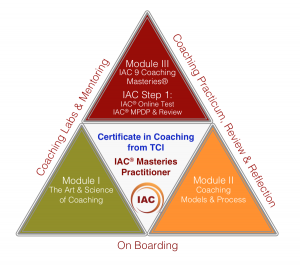 Module 1
Module 2
Module 3
Module 1
The Art & Science of Coaching
Define Coaching
History & Types of Coaching
Difference between Coaching, Mentoring, Counseling and Consulting
Theoretical Foundations
Benefits & Impact of Coaching
5 Coaching Power Tools
Coaching guiding principles
Module 2
Module 3
Upon completing the course, participants will be able to:
Define and State the Benefits of Coaching
Demonstrate Coaching Power Tools
Apply Coaching Process
Demonstrate the IAC 9 Coaching Masteries®
Acquire IAC® Masteries Practitioner Designation (IAC® Terms & Conditions Apply)
Start your own Professional Coaching Practice
Senior Leaders, Directors, Executives and HR Professionals.
Retired Executives and Managers
Organizational Design Professionals, Management Consultants, Trainers and Facilitators.
Entrepreneurs and Business Leaders.
Counselors and Psychologists.
Individuals who are passionate about supporting the professional, personal growth and success of others.
Anyone who wants to take Coaching as a Career.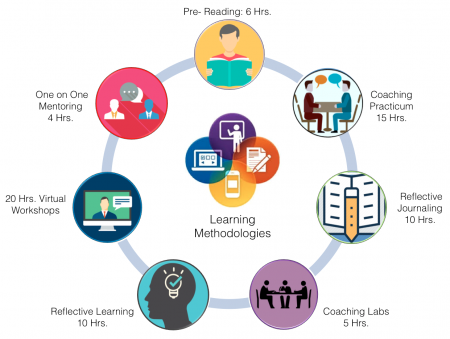 Please Note that the numbers of learning hours are indicative.
They may vary according to:
Number of participants
Individual participation
Personal Learning Needs
THE PATH TO IAC® CERTIFICATION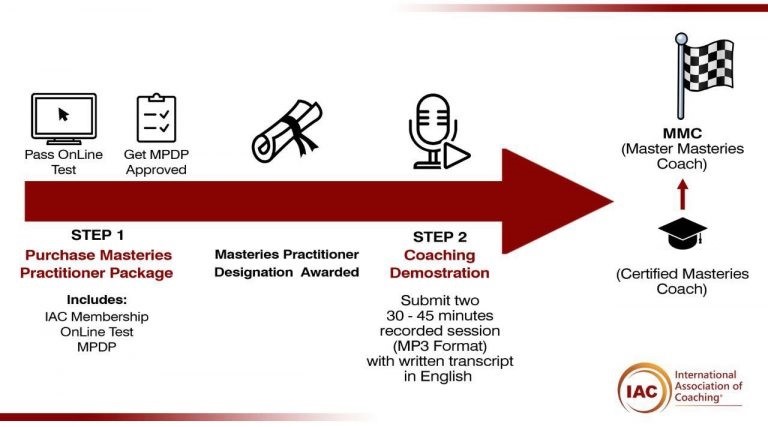 STEP 1 is included in this Certificate in Coaching Course
Participants will be mentored during STEP 2 of the IAC® Professional Certification journey
Certificate In Coaching Course Fee
International Association of Coaching® Masteries Practitioner Package
USD 319 payable to IAC for Masteries Practitioner Package
Total Course Fees: USD 550
Excluded USD 319 payable to IAC for MPDP Package
(Includes all local taxes)

Enjoy an instant rebate of USD 51 when you purchase a FULL Package NOW!
We offer partial payment options as well.
This course will be conducted online in 5 Days (3hrs per day)
13 Jun 2020 (Sat)
20 Jun 2020 (Sat)
27 Jun 2020 (Sat)
4 July 2020 (Sat)
11 July 2020 (Sat)
For More Information contact Capt. Jose