IAC Masteries Practitioner
TCI - Certified Professional Coaching
Be a Certified Professional Coaching with Teamcoach International to advance your career and personal skills. Research shows that Coaching contributes to an increase in personal development, individual performance and business success. Coaching creates a sense of ownership while clarifying one's purpose, goals and objectives.
In an Organisational context, Coaching strengthens your Transformational Leadership competencies which has a positive influence towards employee engagement and talent development.
We are open for Next Cohort Registration NOW
For Next Cohort in April 2021
Request for Programme Details
Benefits as a Certified Coach

Invite Open Communication

Develop Emotion Excellence

Ignite Passion To Perform

Build More Trust & Respect

Empower Decision Making & Accountability
Senior Leaders, Directors, Executives and HR Professionals.
Retired Executives and Managers
Organizational Design Professionals, Management Consultants, Trainers and Facilitators.
Entrepreneurs and Business Leaders.
Counselors and Psychologists.
Individuals who are passionate about supporting the professional, personal growth and success of others.
Anyone who wants to take Coaching as a Career.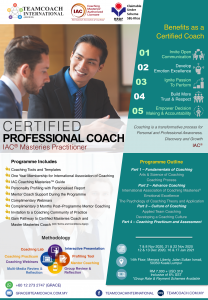 8 Day within 3 Month period
+ 1 Day for Presentation / Assessment
Due to MCO for Selangor and Kuala Lumpur. In view of this, Teamcoach International will be conducting the workshops virtually using the ZOOM platform.