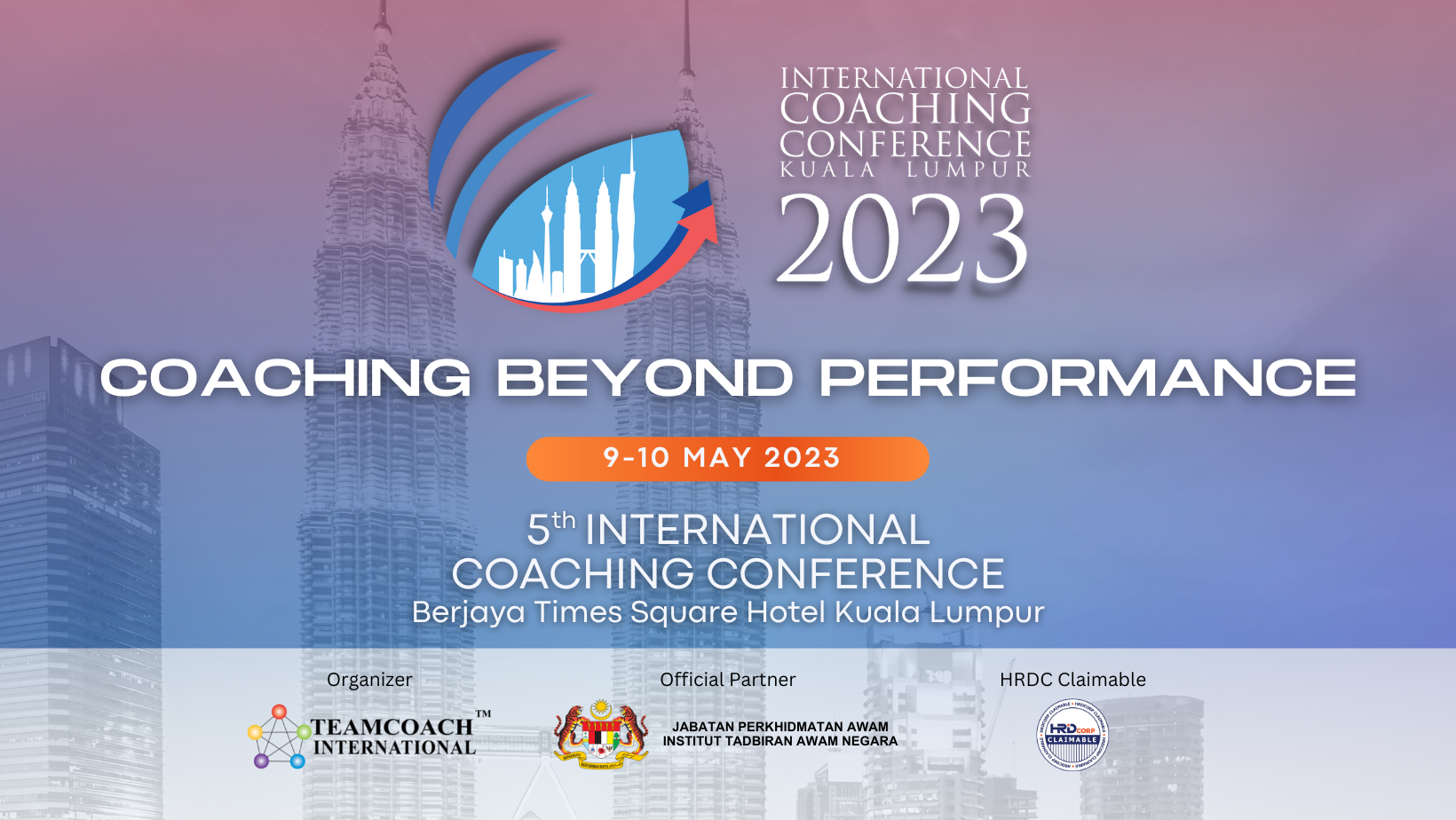 International
Coaching Conference
Kuala Lumpur (ICCKL)
Is poised to offer a stimulating exchange of information and discussions about the future of coaching in the rapidly changing  landscape including disruptive technology. The conference serves as a platform for coaching professionals to learn about trends and innovations that are taking place in the coaching industry and become more future ready.
Welcome to the biannual International Coaching Conference Kuala Lumpur to be hosted at Berjaya Times Square Hotel, Kuala Lumpur on 9 & 10, May, 2023.
This is a chance to connect with like-minded individuals in the coaching industry and gain insights into the techniques, approaches, and mindset necessary for success in today's rapidly changing business landscape.
Attendees will have a rare opportunity to learn from top business leaders and entrepreneurs, acquiring the skills and strategies essential for personal and organizational achievement. Embrace this chance to transform your coaching practice and elevate your success.
Dear Participants,

On behalf of the ICCKL 2023 committee, we would like to express our sincerest gratitude for your participation in the International Coaching Conference Kuala Lumpur 2023, held on the 9th and 10th of May 2023 at the Berjaya Times Square Hotel in Kuala Lumpur.

We were thrilled to welcome over 150 delegates from 9 different countries, making this a record-breaking journey for our team since the event's establishment in 2012 by Captain Dr. Shan Moorthi (Retd.). It was a joy to see coaches and leaders from various backgrounds coming together to share their insights and experiences on how coaching can elevate individuals beyond performance.

We would also like to extend our gratitude to our partner, INTAN, and our supporters, International Association of Coaching (IAC) Malaysia Chapter, HRD Corp, Malaysian Association of Facilitators (MAFa), and ION Consulting International. Their unwavering support and commitment to the coaching community have contributed significantly to the success of this conference.

We hope that you had a fulfilling experience and took away valuable knowledge and insights from our esteemed speakers and coaches. Your active participation and engagement throughout the conference were impressive and energizing.

We would like to once again express our heartfelt appreciation to each one of you for being a part of this event. Your presence has made this conference a tremendous success, and we hope to see you again in the future.

Warm Regards,
You can now view all the amazing photos captured during the International Coaching Conference Kuala Lumpur 2023 on our Facebook page. Follow us on ICCKualaLumpur Facebook Page to stay updated on all our future events and programs.
(Click the Image to access the Album on ICCKL Facebook Page)
Presentation and speaker slides from the International Coaching Conference Kuala Lumpur 2023
Please note that the presentation slides will only be available until 31st May 2023.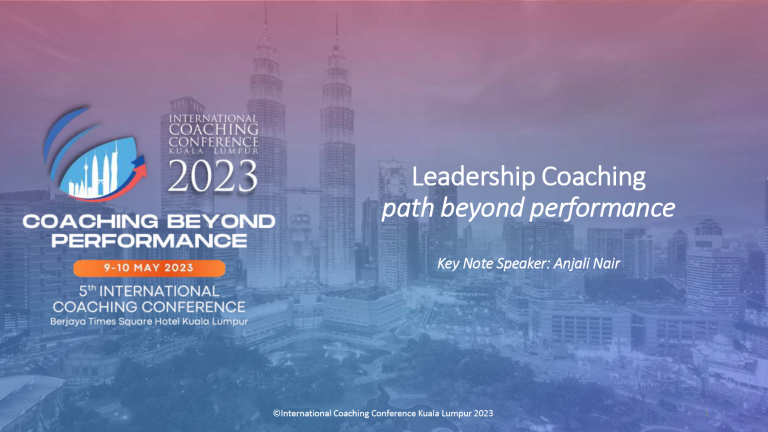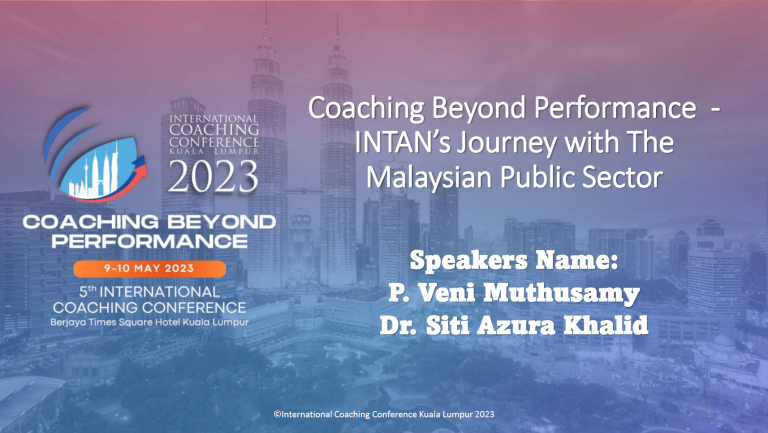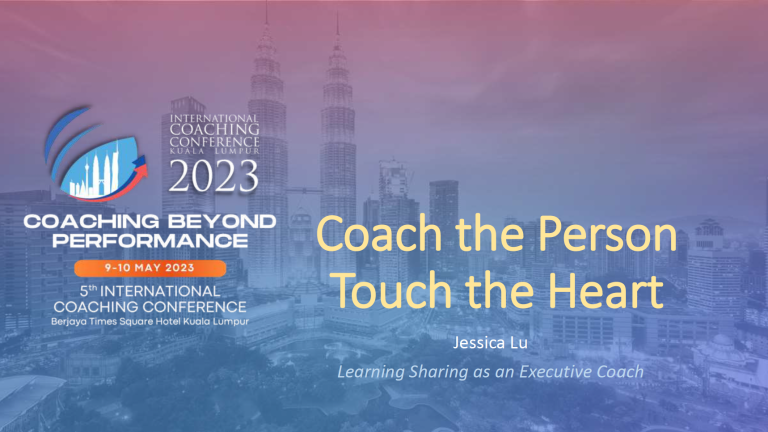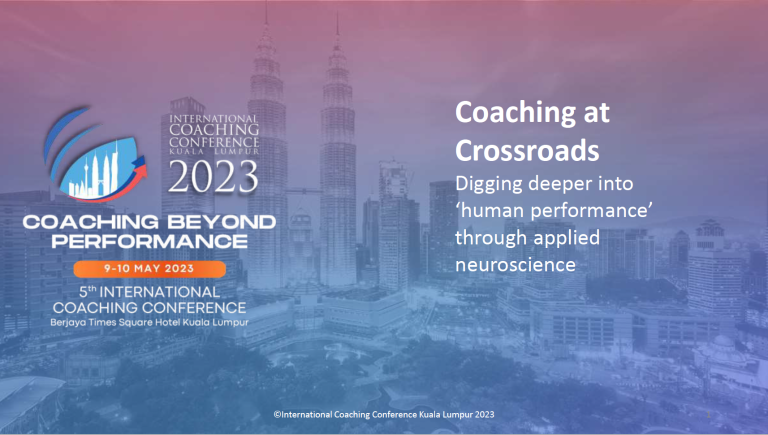 INTERNATIONAL COACHING CONFERENCE
KUALA LUMPUR 2023
Click on the speaker for more information
Facilitating Growth: The Power of Facilitative Leadership.
Coaching Beyond Performance – INTAN's Journey with The Malaysian Public Sector.
Coach the Person; Touch the Heart.
Coaching At Crossroads; Digging deeper into the science of the art of Coaching with Applied
Neuroscience to understand "human performance".
Breakthrough as a Visually Impaired Coach.
Empowering Educators: The Impact of Coaching.
Developing a Coaching Culture, Beyond Performance.
The 5 A's of Transformational Coaching Beyond Performance Metrics.
"Elevate your coaching skills and stay ahead of the curve at the International Coaching Conference Kuala Lumpur, where top leaders and entrepreneurs will share their insights and strategies for success in a rapidly changing world."
Berjaya Times Square Hotel, Kuala Lumpur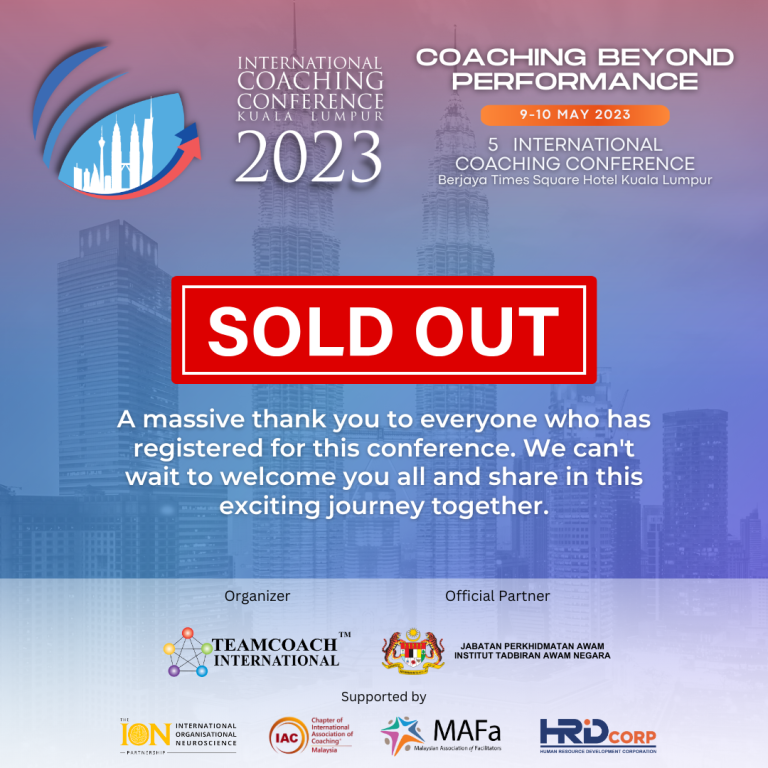 REGISTRATION IS NOW CLOSED
GOVERNMENT OFFICIAL
& Public Service
Pegawai Kerajaan & Penjawat Awam
By clicking "Submit", "REGISTER HERE" or "Daftar Sini" you are agree that:
REGISTRATION POLICY
Registration forms must be completed and submitted together with full payment of the fees to ICCKL before commencement of the Event. Otherwise, the registration will be via online purchase, cash, cheque, credit card or telegraphic transfer/direct debit/IBG.
SUBSTITUTION OR CANCELLATION
Substitution
Substitution of participant(s) is allowed provided a designation of the new participant(s) is made at least one (1) day prior to the commencement of the Event.
Cancellation
Cancellation of registration by a participant is subject to the following:
(a) Fourteen (7) working days or more prior to the Event, 10% of the fee will be charged as administration fees;
(b) Less than fourteen (7) working days prior to the commencement, 50% of the fee will be charged; or
(c) if no notification is received prior to the Event (Non–Attendance) then the full fee will
be charged.
DISCLAIMER
Change of Event Fees
ICCKL reserves the right to alter the Event fees. However ICCKL will not demand for any increase in fees from a participant if the fee has already been paid in full prior to the change. If the fee is not fully paid at the time of the fee increase, the participant may be charged the new fee accordingly. ICCKL reserves the right to make alternative arrangements in relation to the Event date/time, venue or speakers. However ICCKL will reasonably act to notify the participants of such change (if any).
Additional Expenses
ICCKL shall not be responsible for any additional expenses incurred by any participant(s) in the course of attending the Event.